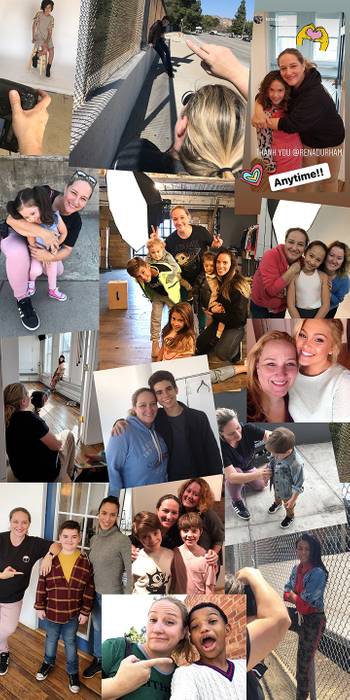 Rena has been working within the entertainment industry for over 20 years. She has photographed some of the biggest teen stars in Hollywood including Selena Gomez, Justin Bieber, the Jonas Brothers and Zac Efron, and built a solid reputation as one of the most prolific teen celebrity photographers. She has an acting background (a member of SAG/AFTRA) and knows what agents and casting directors look for in a headshot.

Fun Facts: Rena has voiced characters in such popular games as World of Warcraft, Guild Wars 2 and Crackdown 2, to name a few.

She understands how important great photos are to the success of your career. It can open a lot of doors for you if done correctly. She is not only AMAZING at directing you, but SUPER EASY and FUN to work with - you/your kids will be laughing and having a ball during your session - she is down to earth and will totally put you at ease while capturing the images that will get you noticed!

Rena's clients tend to direct book jobs straight off her images and is one of the top agency preferred photographers in Los Angeles and nationwide.

Some of the companies that have direct booked her clients are: Zara, Target, Lego, Sovereign Code Kids, Hasbro, NBC, Converse, The Land of Nod, Kraft, Crayola, Boscov, Puma, Toys R Us, Matilda Jane, Walmart, Party City, Delta Airlines, and many more!!!

Furthermore, it is required by LAW in California, that every person who provides a service for a young performer (under the age of 18) have a CHILD PERFORMER SERVICES PERMIT. In order to obtain this permit, you must undergo an FBI background check and fingerprinting. Rena is one of the few photographers who has this permit, so you can rest assured you are entrusting your children with someone who is safe and throughly vetted.

#CPS-000238095

Random Facts about Rena:

Rena is a a huge BTS army (bias is RM, wrecker is Jin) - Borahae

Rena is an avid fan of Harry Potter (Slytherin House), Stranger Things (team Steve) and collector of Funko!

You will definitely hear jokes during your session and Rena is always looking for new ones so don't be surprised if she asks you if you have any.
Clients include:
Fore!! Axel and Hudson, Oilily, Sugarcane Toddler, Interscope Records, Disney Adventures, LVLten Magazine, Tiger Beat, Bop, Total Girl, Popstar!, Bravo, La Petite, Babiekins, Thomas & Teresa, The Mod Child, Aphotic, Southern Child, Foam
Featured on the [FRAMED] Show
Professional Photographer Magazine June 2013
Rangefinder Magazine February 2013
Rangefinder Magazine August 2011
Digital Photographer Magazine May 2004
Chic Critique Blog
The Fort blog
and Samy's Online.
Speaker at PPA Imaging USA 2013 and WPPI 2013